HOW TO GET STARTED
There is no need for registration to get access to the site and you can enjoy easy access to marketplace and various free or discounted products and services with no hassle, whatsoever. Click here!
TO POST YOUR AD OR CONTENT, OR TO CHANGE YOUR PROFILE SETTINGS:
Click on your name or your photo on top right corner of the page or from anywhere else you see those. By doing that you will see your profile. This below is a typical sample of a member's profile. All the tabs under the pictures are dedicated to you. Some of them are only visible by you. Two main features you most often might need are your PROFILE SETTINGS and POST LISTING. All settings and advertisements can be done by the two buttons pointed at by red arrows below: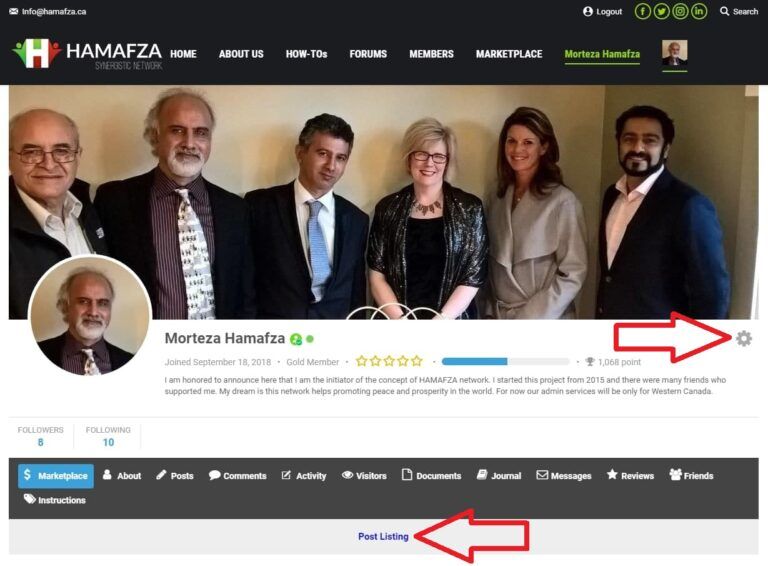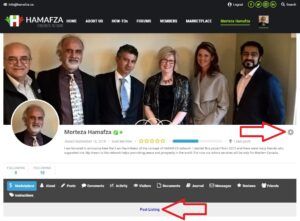 TO CHANGE YOUR PROFILE'S CONTENT OR SETTINGS
Click on the gear type button shown above and edit your account settings, privacy, visibility, etc. You can also log out from there, however, it is not needed to log out frequently. You can stay logged in continuously.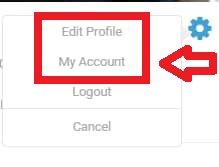 TO ADVERTISE YOUR LISTINGS OR ANY OTHER CONTENT IN THE PUBLIC "MARKETPLACE" PAGE
Simply click on the "Post Ad or Content" tab shown above (in the picture it might read as "Marketplace" tab) and follow the following self explanatory illustrations. The important thing here is that you can decide who can see your ad or content. That way you may want to dedicate the opportunities or valuable products or services to higher rank members who are precisely evaluated or verified, according to the procedures described below: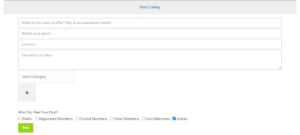 Fill out the following fields as you wish.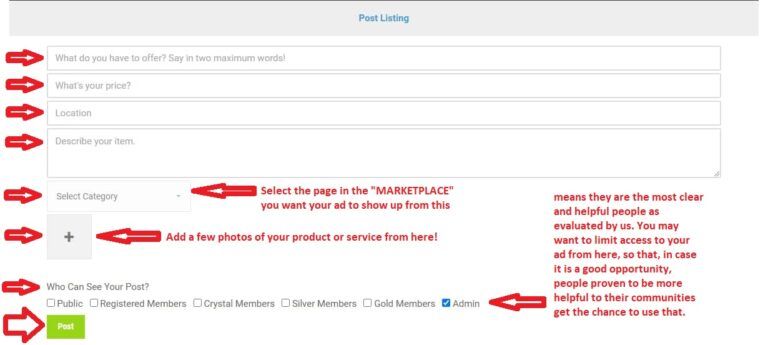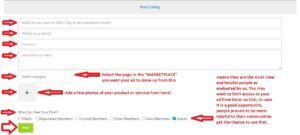 This is a filled sample: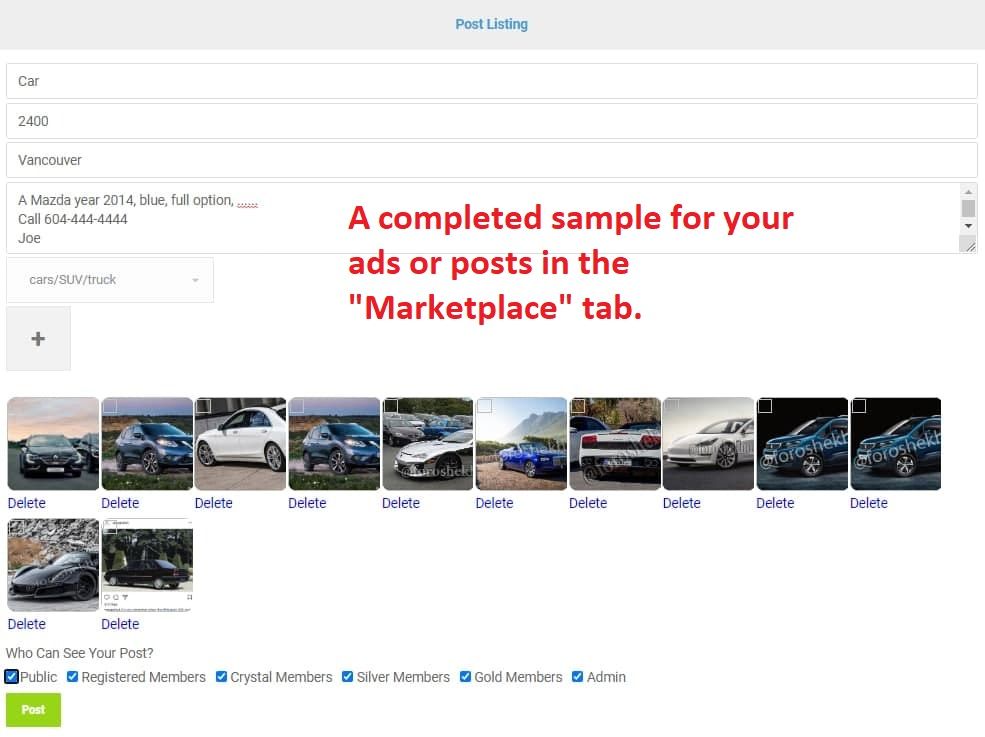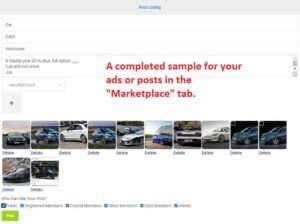 Although some features and pages of Hamafza are accessible to public with no account, but we strongly suggest that you register and create a profile for yourself here and complete it in About tab of your profile any time later; so that, as a result of that you can benefit many other advantages including access to classifieds of various free or discounted products and services, opportunities, and many other benefits that are ONLY accessible by registered and/or higher grade members.
By registering into HAMAFZA you become a Grade 2 Member and will have access to:
Special opportunities, jobs, free or discounted products that members dedicate to certain grades of members only in their own profiles
Members page through which you can search and get access to above hidden opportunities
A well designed profile excellent for presenting your company or your own talents or skills
Privileged information and opportunities shared by higher successful grades
Various Social, political, technical, and many other forums
New forums created by yourself
Profiles of verified suppliers and/or individual members that you can trust
Options of showing your profile and personal information to everyone, only your friends, or nobody
Assessments and reviews about suppliers (Reviews in Hamafza can be only provided by members who are Verified and are reliable.)
The members (including companies) that their identity and traceability is verified by HAMAFZA
Free chat
Postings about free or cheap products in the Marketplace
Feature that you can follow other members or allow to be followed
Notifications
And many more
You can set up your privacy the way you like. You can Hashtag (#) the keywords you choose and provide for them to be viewed more easily. You can have access to all of above and many more and all we need from you is a real email and some minimal info that will remain confidential with us.
Go to DEFINITION OF GRADES and see the variety of benefits and privileges provided to various grades of members.